Doing It the Right Way
Steriods won't taint these players & accomplishments
As it becomes more and more apparent that some of the game's brightest stars and most hallowed records have been tainted by the use of illegal, performance enhancing drugs, we feel it's time to take a look at some of the more overlooked players, milestones, and records that have been set over the past few seasons. When historians look back at this era decades from now, these accomplishments may stand out like shiny, new silver dollars in a box of tarnished coins.

In September of 2001 Rickey Henderson became the game's all time leader in runs scored. However, it was an afterthought during Barry Bonds' chase of Mark McGwire's single-season home run record. Henderson broke a record that was established by Ty Cobb; a mark that stood for 73 years. Bonds, meanwhile, was chasing a record that was set way back in 1998.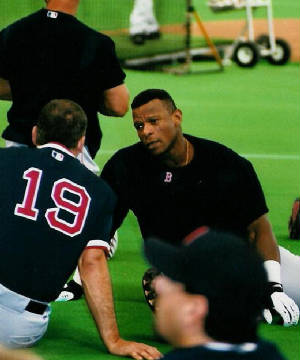 Henderson with Boston in 2002.
From the games' inception until 1997, the 60 home run plateau had been reached exactly twice. From 1998 to 2001, it was surpassed six times, and the once unthinkable mark of 70 was eclipsed twice. When put into its' proper historical context, Henderson's mark is far more significant. The object of the game of baseball is to score runs, and Henderson has crossed home plate more times than anyone.

Rafael Palmerio hit his 500th home run early in the 2003 season, while Fred McGiff stands just nine powerful swings away from that hallowed mark entering the 2004 season. Since neither has ever posted the eye-popping single-season totals of Barry Bonds, Sammy Sosa, or Mark McGwire, many question their Hall of Fame credentials. The truth is, both have been remarkably consistent and remained productive into their late 30s. They may end up being the only two players of this era to reach the milestone without the dark cloud of steroid suspicion hovering over them. That alone makes them Hall of Fame worthy.
Although it didn't happen in the present era, Roger Maris' 61 home run season is looking better and better everyday. In fact, it still stands as the American League record and, since nobody in either league hit 50 last season, it may stand for a long time. Ironically, Bonds and McGwire may be the ones with the asterisks next to their names in the record books.
In the strike-shortened season of 1994, future Hall of Famer Tony Gwynn hit .394 in 110 games. While it has been proven that we should record home run records in pencil, the .400 plateau remains untouchable. Some of the greatest hitters in history have began and ended their careers since Ted Williams hit .406 in 1941, yet not one of them has been able to equal the feat. Imagine, if say, Ichiro made a run at .400 this season, would that not be as compelling as any home run chase?

Speaking of Ichiro, when he smacked out 242 hits in 2001, it was the most by any player since Hall of Famers Bill Terry (254) and Chuck Klein (250) in 1930. Think about that for a minute -- this guy comes over from Japan, and slaps, lines, and chops more base hits in one season than anyone has in more than 70 years!

Although his production has dropped off the past few years, Roberto Alomar may be the most underrated player of this era. The second baseman enters the 2004 season, his first with the Arizona Diamondbacks, with nearly 2,700 hits and a .301 batting average. The 12 time All Star and 10 time Gold Glove winner has scored nearly 1,500 runs, reached base a .372 clip, and is among the all time greats at his position.

The Reds' Barry Larkin is another player whose accomplishments are under appreciated (except in Cincinnati). The 11 time All Star has won four Gold Gloves and an MVP award. A .295 career hitter, Larkin's career is also special because he has spent all 18 years of it with the same team.

It all comes back to Rickey, when you look at his body of work (all time leader in stolen bases, runs scored, walks, and lead off home runs, over 3,000 hits and nearly 300 home runs, and the single season stolen base record) and consider the accusations that surround the player that many consider to be the best of this era, it just makes what Rickey has accomplished all that much more remarkable. Maybe he wasn't too far off when he called himself "the greatest" back in 1991.

-David Zingler