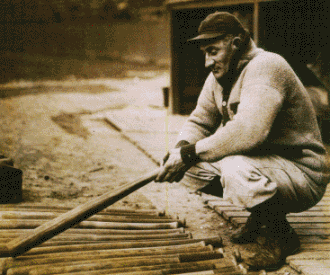 Louisville Colonels 1897-99
Pittsburgh Pirates 1900-17
For many years, the shortstop position was reserved for light-hitting, slick fielding players. Today, this is no longer the case. Today's premier shortstops, Alex Rodriguez, Nomar Garciaparra, Miguel Tejada, and Derek Jeter are among the games' best hitters. While Cal Ripken Jr. is often credited with starting this revolution, it really began with Honus Wagner over 100 years ago.

John Peter Wagner was born on February 24, 1874 in Chartiers, PA. His parents, Bavarian immigrants, soon began calling him Johannes, which turned into Hans, and eventually Honus. He began playing baseball during lunch breaks while working in the coal mines with his father and brothers.

How the young Wagner caught the eye of pro scouts is debated. One belief is that his older brother Al told a semi pro team in Steubenville, OH that he would sign with them only if they also took 20 year old Honus. The other is that he was discovered by Hall of Famer Ed Barrow while tossing rocks.

In any event, after three years in the minors, Wagner debuted with the Louisville Colonels of the National League in 1897. After three productive years in Louisville (.338, .299, .336), the NL decided to consolidate from 12 teams to 8. During the consolidation, former Louisville co-owner, Barney Dreyfuss, assumed control of the Pittsburgh Pirates and brought much of the Louisville team, including Wagner, with him.

In 1900, his first season in the Steel City, Wagner captured his first batting title with a .381 mark, and led the NL with 45 doubles and 22 triples. That marked the beginning of an era of dominance not only by Wagner, but the Pirates as well.

During the next 12 seasons, the Pirates won four pennants and never finished lower than third. Wagner, meanwhile won seven more batting titles (including four in a row), led the league in slugging percentage five times, doubles six times, and extra base hits six times.

The highlight of the easy going shortstop's career was his showdown with American League batting king, Ty Cobb, in the 1909 World Series. Cobb, who was as surly as Wagner was mellow, stood on first base in Game 2 and less-than-politely notified Wagner that he was going to steal second base on the next pitch. True to his word, Cobb took off and slid furiously into second base. Wagner, not about to be bullied, caught the catcher's throw and applied a hard tag to Cobb's mouth. Cobb walked away with a cut that would require three stitches and the Pirates won the Series in seven games.

The premier superstar of his day, Wagner possessed an unusual physique. A big man for his time (5-11, 200 pounds), Wagner was bow legged with long arms. His hands were so big that he would often scoop up a handful of dirt along with the baseball and toss it across the infield causing a trail of dust to spray out behind the ball.

Although Wagner spent most of his time at shortstop, he would have been effective at any number of positions. In fact, the "Flying Dutchman" played every position except catcher at one point during his career.

The Pirate stalwart nearly retired following the 1909 season because he felt arthritis was slowing him down. When owner Barney Dreyfuss and manager Fred Clarke caught wind of this, they immediately scheduled a meeting with their superstar and convinced him that he was too valuable to quit.

They were right. Although his best days were behind him, Wagner remained a productive player into his 40s, and didn't retire until 1917 at age 43. Shortly after he became the Pirates manager, but resigned after five games (four of which were losses) admitting he wasn't cut out for the job.

Wagner's career included 3,415 hits (8th all time), 640 doubles (also 8th), 252 triples (3rd all time), 722 stolen bases (10th), and 1,732 RBI (16th). He is regarded by many as the greatest all around player in history.

Wagner couldn't get the game out of his blood. He played semipro ball for seven years before returning to the Pirates organization as a general instructor in 1933, and served in that capacity until 1951. In 1936, he became an original member of the Baseball Hall of Fame, receiving induction with Ty Cobb, Babe Ruth, Christy Mathewson, and Walter Johnson. He remained in Pittsburgh until his death in 1955 at age 81.

-David Zingler, June 2003
DISCLAIMER: All pictures are assumed to be in the public domain. No violation of copyright is intended here. If one of the photos above is not in the public domain, please notify us and it will be removed.