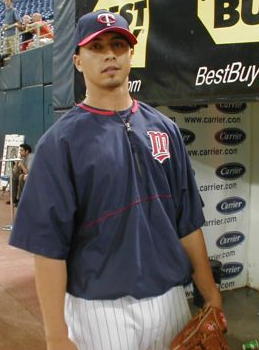 -photo by Michael Vicklund
Kyle Lohse has come along way since the 2000 season. Lohse finished the '00 campaign, his second at AA New Britain, with a 3-18 record and a 6.04 ERA. But, by the middle of the 2001 season he found himself in the starting rotation in the big leagues for a team in the midst of a pennant race. Lohse seems to have the poise and the pitches to solidify himself into the Twins rotation in 2002.

The Twins acquired the 23-year-old right hander in May of 1999 in the trade that sent closer Rick Aguilera to the Cubs. Lohse was in A ball in the Florida State League at the time and was quite surprised by the turn of events, "I had no idea I was being mentioned in trade talks," he said, "(it was) flattering."

Lohse's rise to the big leagues actually began while playing in the Arizona Fall League following the 2000 season. He gained a lot of confidence and put the struggles of the '00 season.

Lohse credits newly promoted (from AAA) Twins pitching coach Rick Anderson for his rapid improvement. "Rick Anderson has made the biggest difference..especially with mechanics," he said.
photo by S. Vannavong
After getting a no decision in his MLB debut on June 22, 2001, Lohse raced out to a 3-0 start capped off by a 13-5 win in Milwaukee on July 12. When asked if pitching in the big leagues seemed simple at that point he said, "Oh, no its never easy I was fortunate to get a lot of run support."

Like many rookies his season hit the wall as he lost his next five decisions as the run support dwindled and the league began to figure him out. Lohse finished his first season with a 4-7 record and 5.68 ERA - respectable numbers for a rookie that no one expected to be in the majors.

Despite the ups and downs the season Lohse had to keep his sense of humor, especially when he had to wear a dress for his rookie incitation. "If I didnt, Id never have heard the end of it," he said.

Lohse, a native Californian that grew up idolizing the "Bash Brothers" (Mark McGwire and Jose Canseco), impressed observes with his poise and array of pitches. He figures to have an excellent opportunity to be a part of the Twins starting rotation in 2002.

-David Zingler, February 2002
Lohse @ Baseball-Reference.com